Here's this week's 500-word Sunday story, inspired by seeing Magnum onstage on Friday night...
The Roar Of The Lights
by Jason Cobley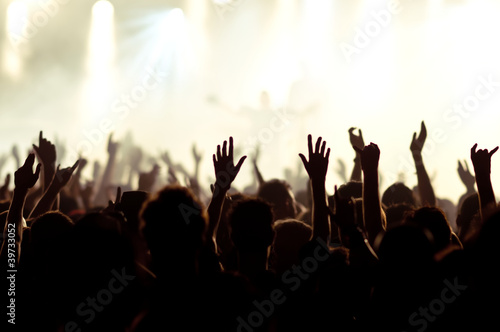 comp image from fotolia.com
The roar of the lights and the cascade of sound fill what's left of my senses. I close my eyes briefly and remember being at Wembley or the NEC. I'm the sole focus of thousands of people, an arena crowd hanging on my voice, my gestures, my songs. They jump and leap, girls on boyfriends' shoulders, banners proclaiming my name or that of the band.
I open my eyes, and there it is. I'm onstage, but not thirty years ago at a stadium in the breezy open air, but a club that holds five hundred at best, shoulder to shoulder, plastic pints in hand, nodding to our riffs rather than throwing full heads of hair and climbing speaker stacks.
It's hot. I'm sweating. I do that much more these days. That's why I have a fan and a bottle of water at my feet, front of stage. The lights, such as they are, are harsh and unforgiving. My hair, now white, is still long and bedraggled. The lines on my face trace every line I ever took, but also every line I ever sang, every compliment from a grateful fan.
My voice thins and disappears into the crowd when I strain for the high notes, but it doesn't matter. The crowd carry it for me. They know the old numbers, our enduring classics, those old top forty singles that no radio station plays any more. They know them better than me by now.
Sometimes I think I could die here, right now, collapse on stage, exhausted and played out. We don't fill stadiums anymore but we make our living trading on past glories and servicing our followers' desperate nostalgia. Some might put it like that. Others would say we're just playing what people still want to hear, even if the fairweather fans have moved on. The fans with thinning hair and thickening waists will always come to her us chug and riff, churning out our songs.
If I died here, right now, on a Friday night in hot, stuffy venue an hour before it converts into a nightclub for a bass-heavy DJ, I reckon the fans would finish the last chorus for me before any of them think to call an ambulance. After all, the show must go on. They may well think it's part of the act. Part of me wants to try it out, to see what would happen. The show would go on.
And what a show it's been. We had a first decade of sleeping on floors, bundling into a rusty van, being bottled out of pubs. Then a second decade of hits, fame but finally bankruptcy as we ended up owing the record company more than we earned for all those promotion costs. Since then, we put albums out ourselves, all the money comes to us, and the fans keep coming. Each audience grows smaller by the year, but they're with us on the journey.
I roar into the lights and the crowd carries me.


***


(c) Jason Cobley 2014